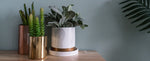 Oji Amorè Zero Waste Candle Containers
 Our candle containers are more than just a vessel for your favorite Oji Amorè wax. These have multipurpose use, from storage to decorative pieces. Depending on the dimensions and the designs of the Oji Amorè candle you purchase, there are endless possibilities to reuse it. So, here are all the surprising ways to maximize our candle containers and have peace of mind, knowing you're investing in a product that offers a lifetime of use.
1. Plant pots
Do you need more containers for your leafy findings? Reuse our candle jars and turn them into pretty pots for your succulents and houseplants. Some of the best indoor plants that perfectly fit small-sized containers are aloe, cactus, bromeliad, air plants, and jade plants.  
2. Flower vases
Flowers and candles make a lovely combination. So, if you have extra candle containers, don't throw them away. Just utilize them as a flower vase. Our matte candle vessels are great as pretty little pots for faux or fresh blooms or add a striking element of greenery to your home. 
3. Pen holders
Got a lot of pens on your desks? Transform your messy working station into a more organized setup by repurposing our old candle vessels. Make some DIY pen holders by decorating them with crystals or paint to make them your own. Our containers also serve as a great storage place for all your stationery essentials. 
4. Kitchen organizers
If you need to organize your kitchen, you won't go wrong by incorporating our glass or cement containers. Use these as storage for your kitchen goodies like oatmeal, sugar, flour, coffee, and nuts. For those with a sweet tooth, these containers can also serve as chocolate and candy jars.
5. Body scrub jars
If you're obsessed with scrubs, then better stack your empty candle jars for your homemade body scrubs. Create your custom product by mixing granulated sugar and your favorite essential oil. You can also add pure vanilla extract if you want. Other body scrubs that you can make at home are coffee scrubs, honey sugar scrubs, and sea salt scrubs. Drop your personalized creation into the clean container and get ready for a cozy bath. 
6. Cosmetic storage 
If you have a flair for making your makeup, you can also utilize your old candle jars. Create your all-natural cosmetics like lotions, creams, lip balms, and such. Then, store them inside our candle tins. And ta-da, you've got a brand-new, personalized product using our used candles.
7. Makeup organizer
 Tidy your vanity section with some old candle vessels. These decorative jars help you sort out your makeup stuff, from lipsticks to mascaras to brushes. And of course, you can also use these for other items like bobby pins, cotton wool pads, and makeup tools.  
8. Accessory holder
Who says you have to break the bank to organize your accessories? Ditch the pricey accessory holder and go for a customized jar using your favorite scented candle vessels from one of our collections. Our small candle tins provide a perfect storage option for your earrings and necklaces, while our large containers fit your fancy bangles and sunglasses. 
9. Bathroom storage
What better way to keep your bathroom in order than to reuse candle containers? Grab your emptied and cleaned vessels to utilize them in your bathroom. These can function as storage for your bath essentials like cotton balls, Q-tips, and other hygiene products. You can also use our jars as holders for your toothpaste and toothbrush. 
10. Bath bombs 
Bath bombs are staples in many homes because of the beneficial uses they provide to your skin. When immersed in water, these bombs disperse moisture and a heavenly fragrance, making your bath experience simply magical. So, if you have many of these in your bathroom, keep them organized inside our candle vessel. If you've got time, you can house your own homemade bath bombs in our containers! Combine baking soda, Epsom salt, cornstarch, citric acid, essential oils, your favorite coloring pigment, and enjoy a customized bath experience. 
11. Spare change Organizer
 If you're tired of seeing coins scattered around your home, it's time to implement some organizational practices. Leave an empty candle container near your room and conveniently drop your spare change in our empty candle container. 
12. Key-holder
Place our cleaned candle jar near the entrance of your home and drop your keys in an instant. By having allocated storage for your keys, the likelihood of you misplacing them will considerably decrease. And the best part is that your container won't cost you a dollar! 
13. Pet treats 
Are you a fur mom or a fur dad? Either way, if you own a couple of empty candle jars, don't throw them away. Just clean them thoroughly, and you'll have a new area to store your pet's favorite treats.
14. Votive Candle Holder
For some romantic vibes, drop your tea-light candle inside one of our empty candle jars. This effect creates an illuminating light and repurposes our jars as votive candle holders. Elevate the ambiance of both your indoor and outdoor setting with our Oji Amorè containers.  
Cleaning your candle containers
Now that you have explored our list of ways to repurpose our candle containers, let's go through the necessary steps to remove leftover wax from your old Oji Amorè candle vessel. There are three methods we suggest to remove excess wax from our jars:
A. The freezer method, which requires you to put our old candle vessel inside the freezer, will freeze the wax. Frozen wax is more brittle, hence easier to remove from the container.
B. You can use a knife to scrape the remaining wax out smoothly.
C. Dip a paper towel in warm water and wipe out any leftover wax.
D. For firmer leftover wax, we recommend the use of a wax warmer. To remove this wax, place the candle jar on a wax melter. Once the candle residue softens or liquifies, remove the container and empty the container's wax in a plastic bottle or garbage can. Do not ever pour wax down your sink. It will clog your pipes and lead to costly plumbing issues. Once the wax is completely removed, wash the jar with warm water and soap. 
Without a doubt, our candle containers have many uses. And if you're on the hunt for zero waste products, our candle collections will not disappoint. Get your money's worth and shop all of our beautiful candles today.