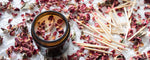 From setting the mood to boosting your limbic system, candles have long been considered a staple in most homes. These decorative pieces provide many amazing benefits. And if you're planning to purchase wood wick candles, you must know all its key points beforehand. 
The Special Flair of Wood Wicks
Wood wicks have become increasingly popular because of their unique attributes, that added touch of luxury and cleaner burn to the world of candles. These thinly crafted wood slabs replace the traditional wick for a more captivating candle experience and sound. Standard candles use wicks made of cotton, zinc, lead or paraffin dipped wicks. While still doing their part as a candle, these components don't produce a toxin-free burn or provide an eco-friendly product. So, let's have a blow-by-blow discussion of the core benefits of wood wick candles and how these offer many advantages compared to more traditional products.
An Eye-catching Setup
Wood wick candles are more attractive because of their classic yet enthralling style. Compared to traditional ones with thin, spiraled wicks, wood wicks exude a unique design that perfectly mimics an outdoor campfire. Along with that, our wood wick candles come in different vessels to give you more options. We also use high-quality wood wicks made here in the USA. Our wicks are all-natural and offer unique visuals to satisfy your preferences. 
Crackle Options 
We offer two types of wood wicks, flat wicks and tube wicks. Our wicks are produced from sappy fruit trees and sweet softwood. The care of wood wicks is also highly manageable. To maintain a clean burn proper wick trimming is encouraged. This can be achieved by breaking off the burnt wood once the candle has cooled. So, if you're considering our wood-wick candles that add style to your home without taking up too much of your time, this one might be the best option. 
Lasting Scent
In terms of fragrance, you might be surprised that wood-wick candles throw a better scent and a natural smell when burning. When trimmed correctly, our candles do not accumulate additional smoke in your home. The fragrance can also last for a more extended period without wasting the wax. The horizontal style of the wooden wick also paves the way for a slower and lower flame that heats the fragrance optimally. We advise you to not burn longer than three to four hours without re-trimming the wick with wick scissors or nail clippers. Also  allow the candle to cool down before relighting.
No-frills Maintenance
All candles require maintenance to keep them usable and presentable during their shelf life. Our wood-wick candles are not just convenient to light but also easy to maintain. And when trimming the wicks, just let the wick cool, and then pinch the upper portion of the most brittle part with your finger. You can also use wick cutters or a nail clipper to avoid touching the burnt wood. 
Stellar Sustainability Features
Candles, as a whole, do have an impact on our bodies as well as the environment. Did you know that many cotton wicks are dipped in paraffin, so it's easy to light them? However, paraffin may release carcinogens and other potentially harmful toxins. Likewise, most paraffin wax candles have a terrible reputation of leaving a dirty burn or soot that may affect the walls of your house.
Another thing to consider is that some low-quality cotton wick candles are associated with zinc, which can be harmful to our lungs and the atmosphere. And of course, cotton has an infamous reputation among many environmentalists because of its intense need for water. It's one of the most intensive and demanding crops worldwide, requiring high water usage to grow. 
So, if you value the sustainability features of a candle, our wood wicks are the most eco-friendly choice. The candles do not produce carbon buildup for easier maintenance and more prolonged usage. Not only does it have less soot, but it also provides a cleaner and healthier burn. So, if you want a cleaner and more sustainable option, then these candles are just the right fit for your needs. More so, thousands of wood wicks are generated from a single tree with no added harmful features. Combined with our naturally sourced wax, these candles are more eco-friendly than potentially dangerous paraffin candles with cotton, zinc, and paraffin dipped wicks.
Better Ambiance and Unique Sounds
Now let's go to the aesthetic portion of the candles. One of the key purposes of candles is to stimulate your senses and improve the atmosphere by permeating your space with enjoyable scents. While many candles add captivating fragrances and a warm glow to their surroundings, wood wick candles have a unique charm that adds one more dimension to pleasure the senses. When you light our wood wick candles, the wick gives off a soft crackling sound, similar to that of a real fireplace. These pleasing sounds ultimately bring out a more soothing atmosphere and extra radiance to the candle. 
Traditional candles made of conventional wicks play a role in improving the ambiance, but it isn't as striking as wood wick candles. So, if you're looking for a unique experience, you won't be disappointed by purchasing an Oji Amorè wood wick candle. 
Safety Points to Consider When Using a Wood Wick Candle
Wood wick candles should be adequately maintained to preserve their longevity. To guide you, here are some essential safety tips to keep in mind.
Position your candles on a dry and heat-resistant surface. Make sure you place them away from anything that may cause a fire. Also, keep the candles out of the reach of children and pets.

Trimming is a must when using wood-wick candles. Proper trimming reduces the flame height and lessens smoke output. It also helps in removing soot buildup and increases the total burning hours of your candle. 

In general, maintain a wood wick length of 2-3 mm to ensure a safe flame height and optimal candle performance. 

Keep all burning candles within sight. Never leave them unattended to avoid unfortunate accidents. 

Evaluate the candles for two hours during the first usage. Through this, you can assess the wick length needed for your candles. Following the 1-2 hour increment also helps preserve the fragrance and the candle's lifecycle.  

Clean the wax thoroughly and remove burnt wick residue. Keep combustible materials away from the burning candle.

Never use water around hot candle wax, which can lead to combustion.

Lastly, you have to inform everyone in the household about these guidelines to ensure safety.
Wrapping It All Up 
A wood wick has its own set of features and benefits that make it unique and appealing to the public. Aside from being aesthetically pleasing, the positive effects it provides on the environment are remarkable. When compared to traditional candles, it offers better sound and scent attributes that burn cleaner. So, if you want to experience a sustainable product, explore our beautiful collection of wood-wick candles and make a cleaner choice. You deserve uncompromised quality.